KTM SXF250 DID ERT3 GOLD MX Motocross Chain and JT Sprockets Kit (2006 to 2012)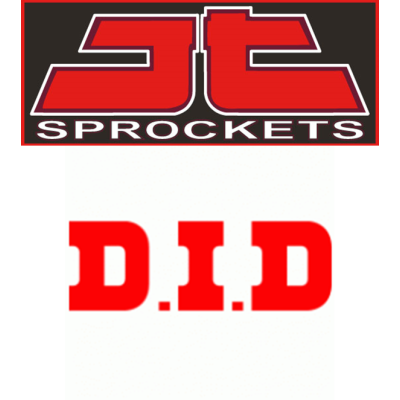 KTM SXF250 DID ERT3 GOLD MX Motocross Chain and JT Sprockets Kit (2006 to 2012)
KTM SXF 250

Covers 2006 to 2012 Models

DID Heavy Duty ERT3 Gold / Gold 120 Link & Pair of JT Sprockets

Front & Rear Top Quality JT Carbon Steel Sprockets (13 Tooth Front & 48 Tooth Rear Standard Gearing)

1 x DID Japanese Professional Gold ERT3 520 x 120 Link Chain (with a Clip type connecting link)

(Please Note; The chain is 120 links and may need to be cut down to the correct length for your bike)

DID is proud to present its 520 ERT3 chain:

The ERT3 chain is used by the best supercross and motocross factory teams
D.I.D's exclusive SDH pin treatment is the secret behind the excellent performance and is ideal for use in muddy conditions.
The revolutionary SDH treatment forms an extremely hard chromium carbide layer on the pin's surface, while maintaining a soft inner core
SDH-treated pins have very high impact strength while maintaining outstanding shock absorption.
This treatment creates a chain with superior anti-oxidation properties and wear resistance, for top performance and protection from foreign materials.

JT Sprockets

JT sprockets are made using only the best available materials.SCM415 chromoly steel alloy for front sprockets, and we are the only sprocket manufacturer using the ultra-durable high carbon C49 steel for rear sprockets.

The JT Sprockets factory is the largest and most advanced in the world. It is fully equipped with high accuracy machinery, including the latest generation of CNC computer design and computer controlled metal cutting equipment. The essence of a high quality sprocket is in the high precision of manufacturing and the inherent quality of the material.

Heat treated and hand finished to perfection, all JT sprockets meet or exceed the highest possible quality standards set for the motorcycle industry.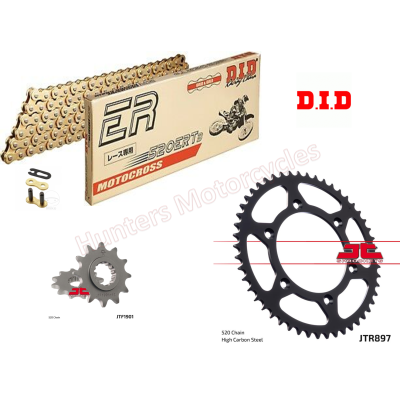 KTM SXF250 DID ERT3 GOLD MX Motocross Chain and JT Sprockets Kit (2006 to 2012)
£73.95 - Free UK Delivery
Additional Photos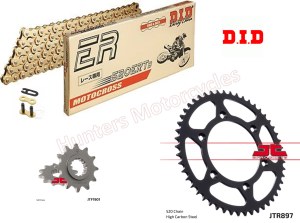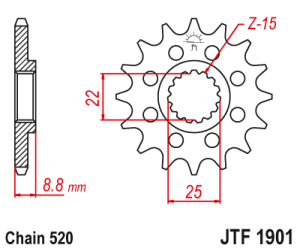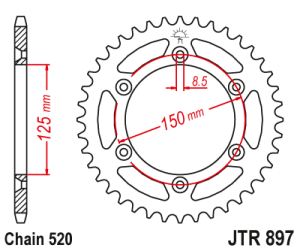 For the following Bikes:
KTM SX-F 250 2006
KTM SX-F 250 2007
KTM SX-F 250 2008
KTM SX-F 250 2009
KTM SX-F 250 2010
KTM SX-F 250 2011
KTM SX-F 250 2012
---
You may also be interested in: