KTM SX250 DID DZ2 Gold MX Chain and JT Sprockets Kit (2017 to 2019)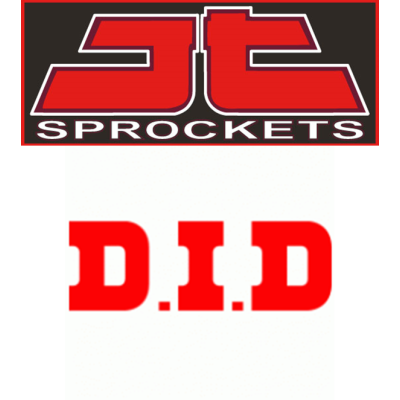 KTM SX250 DID DZ2 Gold MX Chain and JT Sprockets Kit (2017 to 2019)
FREE UK SHIPPING

KTM 250 SX

Covers 2017 - 2018 - 2019 Models

DID GOLD HEAVY DUTY DZ2 MX CHAIN

FRONT & REAR TOP QUALITY JT CARBON STEEL SPROCKETS

(14 Tooth Front 50 Tooth Rear 520 x 120 Link Chain)

1 x DID Japanese Professional Gold DZ2 520 x 120 Link Chain

(Please Note; The chain is 120 links and may need to be cut down to the correct length for your bike)

(Supplied with a clip type connecting link)

D.I.D IS A JAPANESE ORIGINAL EQUIPMENT CHAIN

JAPANESE DID 520DZ2 is a high-performance chain

Designed to meet demands of the most grueling MX tracks, the 520DZ2 is designed to meet the challenge. Now greatly updated with D.I.D's exclusive SDH technology.
D.I.D's exclusive SDH pin treatment is another secret behind their winning performance.
The SDH pin treatment creates an extremely hard chromium carbide layer on the pin surface which increases chain life. And at the same time the pin's inner core remains soft to absorb the tremendous shock loads of triple jumps without breaking.

Pitch: 520

Length: 120
Colour: Gold and Black

JT SPROCKETS

SC Lightweight Steel Rear Sprockets
The new standard in steel rear motocross sprockets. A unique self-cleaning design keeps the contact area clean from dirt and mud while significantly reducing weight. Made from heat-induction hardened C45 steel which lasts up to six times longer than a 7075 aluminium sprocket and greatly extends chain life.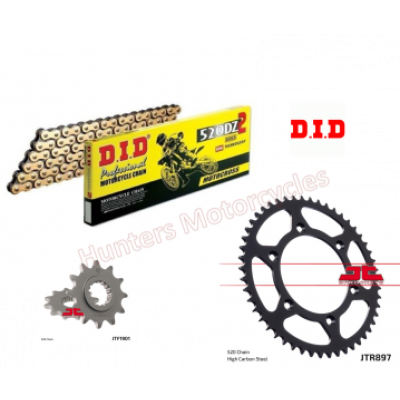 KTM SX250 DID DZ2 Gold MX Chain and JT Sprockets Kit (2017 to 2019)
£65.95 - Free UK Delivery
Additional Photos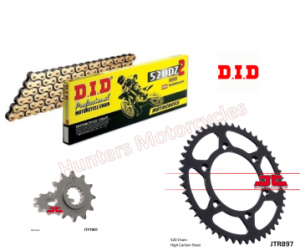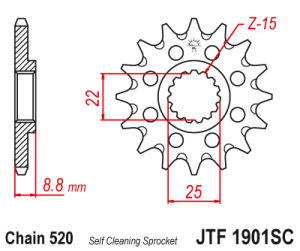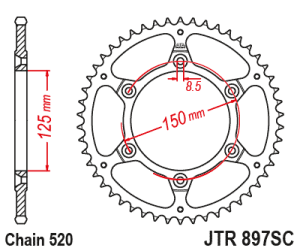 For the following Bikes:
KTM 250 SX 2018
KTM 250 SX 2017
KTM 250 SX 2019
---
You may also be interested in: