EK 525 DEX 114 Link Gold X-Ring Japanese Heavy Duty Drive Chain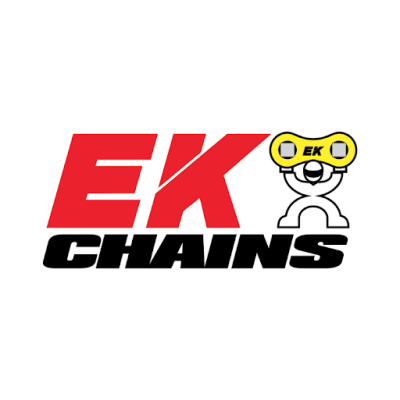 EK 525 DEX 114 Link Gold X-Ring Japanese Heavy Duty Drive Chain
Made in Japan

Authentic Japanese EK Gold X-Ring Heavy Duty Chain

Gold Inner & Outer Plates (GG)

(525 x 114)

1 x EK Japanese Professional Gold X-Ring DEX GG Series Chain (with a rivet type connecting link)

EK is a Japanese original equipment chain
Durable & high-quality chains you can trust!

Quadra-X Ring design reduces friction by as much as 40% because of smaller contact area. The X-Ring's 4 point contact patch also offers better sealing than conventional O-rings. Lab tests show the Quadra-X ring chains last 50% longer than a standard O-ring chain!

The DEX Series chains are excellent quality for Road & Off Road road motorcycles. Manufactured in Japan, the Quadra X-ring design reduces weight and friction which increases chain life by 1.5 – 2x longer than a standard O-ring chain!

Anyone who's ever stepped on a Honda, Kawasaki, Yamaha or Suzuki knows that Japan takes motorcycles seriously. When you add an EK drive chain to your bike, you'll see how that commitment to excellence extends to aftermarket parts as well. Since their founding in 1941, EK Chain has practically been obsessed with quality and innovation. They created the first O-ring sealed chain in 1974, and their factories are ISO 9001 certified for the highest levels of precision and safety. If your ride of choice is a sport bike, metric cruiser or dirt bike, chances are an EK chain will be your drive chain of choice as well.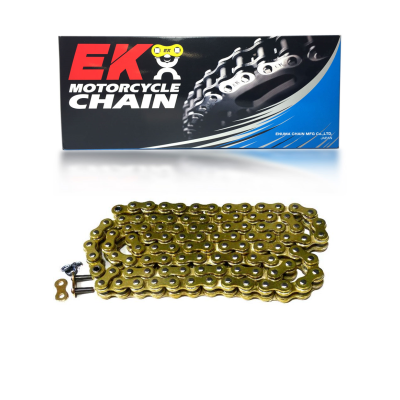 EK 525 DEX 114 Link Gold X-Ring Japanese Heavy Duty Drive Chain
£52.95 - Free UK Delivery
For the following Bikes:
Yamaha YZF-R6 2006
Yamaha YZF-R6 2007
Yamaha YZF-R6 2008
Yamaha YZF-R6 2009
Yamaha YZF-R6 2010
---
You may also be interested in: